PA Dutch Country Counties Scroll Down and Select.



Here's a Map: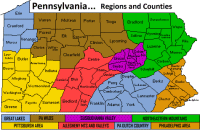 Use the drop-down boxes to find information about what to do, where to stay, eat, shop, worship and more as you plan your stay in this region. Towns in the region include: Camp Hill, Carlisle, Chambersburg, Gettysburg, Harrisburg, Hershey, Intercourse, Lancaster, Lebanon, Reading, Shippensburg, York... Not Sure Where A Town Is?
CLICK HERE.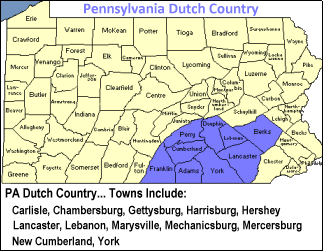 Area Notes of Interest: Harrisburg, in Dauphin County, is the state capital. Both Lancaster and York were, at one time, capitols of the United States. Reading, (Berks County), is known as the outlet capitol of the world. Babe Ruth started his baseball career on a ball field near Cornwall in Lebanon. Chambersburg, in Franklin County, was the fartherst north Robert E. Lee got with his Confederate army which was beaten at Gettysburg in Adams County, July 1-3, 1863.

PA Dutch-Online Shopping




Lancaster County




Where Fun Grows




Exclusive B&B/Winery